Plot synopsis:
After the death of his father, T'Challa returns home to the African nation of Wakanda to take his rightful place as king. When a powerful enemy suddenly reappears, T'Challa's mettle as king — and as Black Panther — gets tested when he's drawn into a conflict that puts the fate of Wakanda and the entire world at risk. Faced with treachery and danger, the young king must rally his allies and release the full power of Black Panther to defeat his foes and secure the safety of his people.
Who ever said that "all Marvel movies look, sound and feel the same" should quit while they're ahead. Black Panther is yet another example of how Marvel Studios continues to deliver fresh, quality content to the modern comic book genre. It's the film that many have been waiting a long time to see. One that offers representation, understanding, awareness, and empowerment.
Ryan Coogler is three for three as a director of feature films, with Black Panther being his largest budgeted film to date. He clearly understands the importance of blending in fantasy aspects that comes from the culture and technology of Wakanda into the established M.C.U., yet making it feel grounded. Coogler does a beautiful job gradually introducing us to everything that is Wakanda. You'll at times believe such traditions and rituals can exist. In his previous feature Creed, Coogler demonstrated an impressive eye for fight sequences, with continuous shots in the boxing ring. He thrives in Black Panther, delivering impressive action sequences involving the title character, and in particular the Dora Milaje.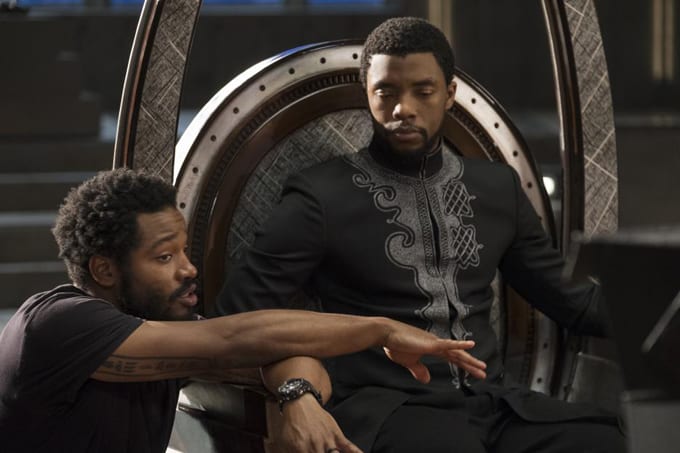 I've been a fan the Chadwick Boseman casting to play title character, and while he made all of us excited to see a Black Panther movie starring him, it's in this film where he owns/earns the role, and the franchise. Boseman is charismatic, funny, and powerful as T'Challa, the newly appointed King of Wakanda. He brings the same intensity demonstrated in previous dramatic roles, and shows a knack for comedic timing. However, as incredible as Boseman is, Black Panther may be another comic book film where the villain steals the show.
There's a reason Coogler's go-to actor for lead, if not prominent roles is Michael B. Jordan, and this movie spells it out perfectly. Jordan is fierce and commanding as Erik Killmonger/Golden Jaguar. He's the kind of villain who, at one moment you won't dare to cross, yet the next moment could see yourself standing beside. As an actor, Jordan easily conquers unchartered territory in his career by playing the MCU's strongest antagonist yet. Lastly, it cannot be said enough just how great this cast, with the onscreen chemistry displayed and a clear passion for this film (Lupita Nyong'o, Danai Gurira, Daniel Kaluuya, Letitia Wright, Winston Duke, Martin Freeman, Angela Bassett, Forest Whittaker, Andy Serkis). Gurira in particular was a perfect casting to play Okoye, the leader of the Dora Miljae. She's one of many strong and intelligent female characters.
What blew me away about Black Panther, and made it feel like a true escape, was the world building of Wakanda. It's easy to get caught in all the CGI, but it's the costume design, make-up, dancing, fighting, and language that make it feel otherworldly. Throw in some well executed sound mixing from a phenomenal soundtrack by TDE and Kendrick Lamar, and you have a modern comic book hit for movie audiences.
Black Panther gets an 8.8 out of 10.
Why not a 10?

CGI effects needed more work in the climactic battle.

Story at times feels a bit too similar.
Format viewed: XD
Drink of choice: Bottle of water