Not sure if you've heard about this project called Screening Room that's been causing a stir around Hollywood. The idea came from Napster co-founder Sean Parker, who (in)famously changed the entire music industry with free music file-sharing. Now Parker is looking to do the same with Screening Room.
The project offers you the opportunity to watch movies currently playing in theaters while in the comfort of your own home. For $150, you're given a set-top box that transmits movies from theaters into your Smart TV and promises top-notch piracy protection. From there, each movie would cost you $50 to which you would own for 48 hours. The profits from Screening Room would be divided, with $20 going to movie theaters, $20 going to distributors, and the remaining $10 going Screening Room. Furthermore, Parker and his business partner Prem Akkaraju are attempting to broker a deal that gives two free tickets with each movie purchase. Sounds like a pretty cool offer, except the project is already causing a stir in Hollywood.
While currently in its early stages, Screening Room has caused several big names in Hollywood to come out and speak. Directors Peter Jackson, Steven Spielberg, Martin Scorsese, J.J. Abrams, Ron Howard, among other producers have given their support to the project. One of the more notable quotes comes from Jackson, who says Screening Room "does not play off studio against theater owner. Instead it respects both, and is structured to support the long term health of both exhibitors and distributors." The project has also found its share of non-supporters, with directors James Cameron, Roland Emmerich, Christopher Nolan, and producer Jon Landau all expressing their concerns with the idea. Specifically, Cameron has stated "we don't understand why the industry would want to provide audiences an incentive to skip the best form to experience the art that we work so hard to create." Its not surprising to find such differences in opinions regarding Screening Room, but what about the viewers themselves and how they feel?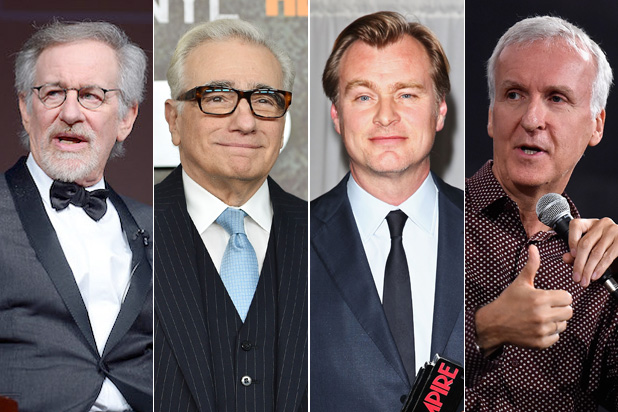 For me, I'm a 25 year old man with no kids. I love movies and have always enjoyed going to movie theaters and escaping the outside world for 2 hours. The only question I ever have is whether or not I want to see a movie in IMAX or standard screening.
All that being said, I'm just one person in a much much larger group of movie goers like me. Some people who are my age and don't have kids don't like going to movie theaters. Reasons being the costs of movies and concessions, along with fellow audiences members lacking theater etiquette (i.e. talking while a movie is playing or on their phones). Lets not also forget those people that do have kids. For them going to the movies can be a tough thing to schedule, and would also cost them a pretty penny. To truly understand where some people stand on this, I went to the one place where people express themselves in 140 characters or less.
Here's what I found…
https://twitter.com/TheTopGunLohuis/status/709385004153962497
The positives and negatives that come from a project like Screening Room are obvious. How many potential buyers are already thinking about hosting viewing parties, and charging a cover to help cover the costs while also making a profit themselves? How much easier will it be for a movie to be pirated? Right now the project is in its early stages, but that isn't stopping others from doing everything they can to prevent this. A representative from the National Association of Theater Owners (NATO) has come out and spoken on this Screening Room matter.
NATO has consistently called on movie distributors and exhibitors to discuss as partners release models that can grow the business for everyone. More sophisticated window modeling may be needed for the growing success of a modern movie industry. Those models should be developed by distributors and exhibitors in company-to-company discussions, not by a third party.
It could be an uphill battle for theater owners looking to prevent Screening Room from happening. Reports from Deadline claim that AMC Theaters has signed a letter of intent with Screening Room, with more chains possibly to follow. Like it or not, the movie industry is already changing with Video on Demand services and streaming services like Netflix and Amazon making their impacts. Screening Room looks to be the biggest of them all.
What's your opinion on Screening Room? How much would this project change your movie going experience?
Sources: ScreenRant, Deadline, The Wrap, /Film
Follow Me on Twitter – @GioRamos24
SUBSCRIBE to our Youtube Channel- Apocaflix! Movies