When James Bond's (Daniel Craig) latest assignment goes terribly wrong, it leads to a calamitous turn of events: Undercover agents around the world are exposed, and MI6 is attacked, forcing M (Judi Dench) to relocate the agency. With MI6 now compromised inside and out, M turns to the one man she can trust: Bond. Aided only by a field agent (Naomie Harris), Bond takes to the shadows and follows a trail to Silva (Javier Bardem), a man from M's past who wants to settle an old score.
After four years since Quantum of Solace released, Daniel Craig returns as James Bond in Skyfall. Directed by Sam Mendes, who for years was attached to the project as a consultant. Mendes proved to be successful in reinvigorating this Bond franchise, with a great story, beautifully shot cinematography, and enough suspense from the characters to make Skyfall a thrilling adventure from start to finish.
The open scene shows Bond and Eve (Naomie Harris) pursuing a mercenary named Patrice, who stole a hard drive containing a list of Mi6 agents undercover in terrorist organizations. During this sequence, Bond gets injured pretty badly. In fact more badly than I've seen in any of the opening Bond scenes. He gets shot twice, and one was a friendly fire from Eve, which was pressured by M (Judi Dench).
This was a very telling moment for M, who pretty much viewed Bond as expendable after the years of service and commitment. She'll have to soon pay for her actions (sins) in more way than one, and this is foreshadowed by the sudden rain happening outside her office. As for Bond, although he makes a Bond-like entrance in the train cart by fixing his cufflinks and showing confidence to get the job done, he gets picked off by his own people who show their lack of confidence in him. He later decides to use this opportunity in disguise to retire.
After sometime passes, things start to go bad for M. She's forced to soon retire by the hands of Gareth Mallory (Ralph Fiennes) and witnesses an attack on Mi6 headquarters. The attack lures Bond back after a couple months of retirement, and he's welcomed back by M with a protocol fitness test to see fit for duty.
Day…. wasted.
Seeing Bond exhausted after some pull-ups, or not being able to hit a still target showed us a natural flaw in our protagonist, old age. Although Bond fails the test , M grants him full duty as a sign of her trust. His first encounter with Q (Ben Whishaw) is dialogue full with humor between two men separated by time and technology.
I can't express enough how beautifully shot this film is. When the setting shifts to Shanghai, we get beautiful shots of night time scenery enriched with colorful lights. Bond tracks down Patrice and gets his revenge. Their fight sequence on the skyscraper is one great uncut sequence, with excellent choreography and light usage.
As if Shanghai wasn't visually stunning enough, we then follow Bond to a casino in Macau that looks just as great visually. Bond cashes in a gambling chip found in Patrice's bag, which leads him to Séverine (Bérénice Lim Marlohe). After a short conversation, Bond convinces her to introduce him to her boss on a remote island.
Hands down the best scene as far as dialogue is the introduction of Raoul Silva (Javier Bardem). He explains to Bond this analogy about rats and coconuts, and at first I'm wondering where is he's going with this. The analogy turns out to describe how the Mi6 views and treats its agents, and how Raoul views himself and Bond in today's world. Raoul, a former Mi6 agent turned cyber terrorist, is hell bent on getting his revenge on M.
What follows is a very intense scene where Bond must shoot a glass full of liquor off Severine's head without killing her. At this point, we know Bond isn't as skillful with a gun as he once was, which makes the scene more suspenseful. After he misses, Raoul ends up shooting her unmercifully. What a statement, using Severine's head as part of a sporting game. Soon after, Bond shows flashes of his old self and takes out all of Raoul's men and capturing Raoul.
During M's questioning of Raoul, we learn a great deal about Raoul. He served M and his country faithfully. When captured by enemies he never broke through pain and torture, and the Mi6 still turned their backs on him. He even tried killing himself, yet survived and was badly damaged. The shot where he shows his damaged faced is just creepy, yet effective in showing how his loyalty to M led to suffering.
While previous Bond chase sequences in the Daniel Craig films were fast paced and forced the bad guy to quickly improvise, this one is much slower and intelligent. Raoul escapes Mi6 and leads Bond through an underground chase, meanwhile Mi6 is once again hacked. Through careful planning, Raoul manages to nearly hit Bond from a falling train. Its an insane action stunt that looks amazing onscreen. Meanwhile, M is answering to the government during a public inquiry for the handling of the missing hard drive. Raoul manages to crash the meeting and nearly kills M. This forces Bond to evacuate M out of the city and off the grid.
Skyfall celebrates 50 years of James Bond onscreen, and there was no better moment than seeing the film reveal the 1965 Aston Martin DB5. Coupled with the iconic Bond theme, it became a moment of nostalgia for everyone.
Bond and M travel to Scotland where they take refuge at Skyfall, the childhood home of Bond. Together with the help of Kincade and limited weapons, they devise a plan to kill Raoul, who's hot on their trail. Bond is without his weapons, gadgets, and intel, and is forced to improvise using old school techniques. As a result, the end battle sequence between Raoul's men and Bond may not be flashy, but remains entertaining when considering the circumstances.
The finale in the chapel is deep on an emotional level for both the hero and the villain. Raoul has trapped M and pressures her to pull the trigger in killing them both. His entire life as led to this moment, where he no longer wants to live his damaged life, and no longer wants M to suffer for her sins. Bond makes it in time to kill Raoul, and manages to reference the rat analogy before Raoul dies. M is badly wounded from the fight earlier and dies in Bonds arms. Its an emotional moment seeing this version of M die, and concludes a rocky, but strong relationship between her and Bond.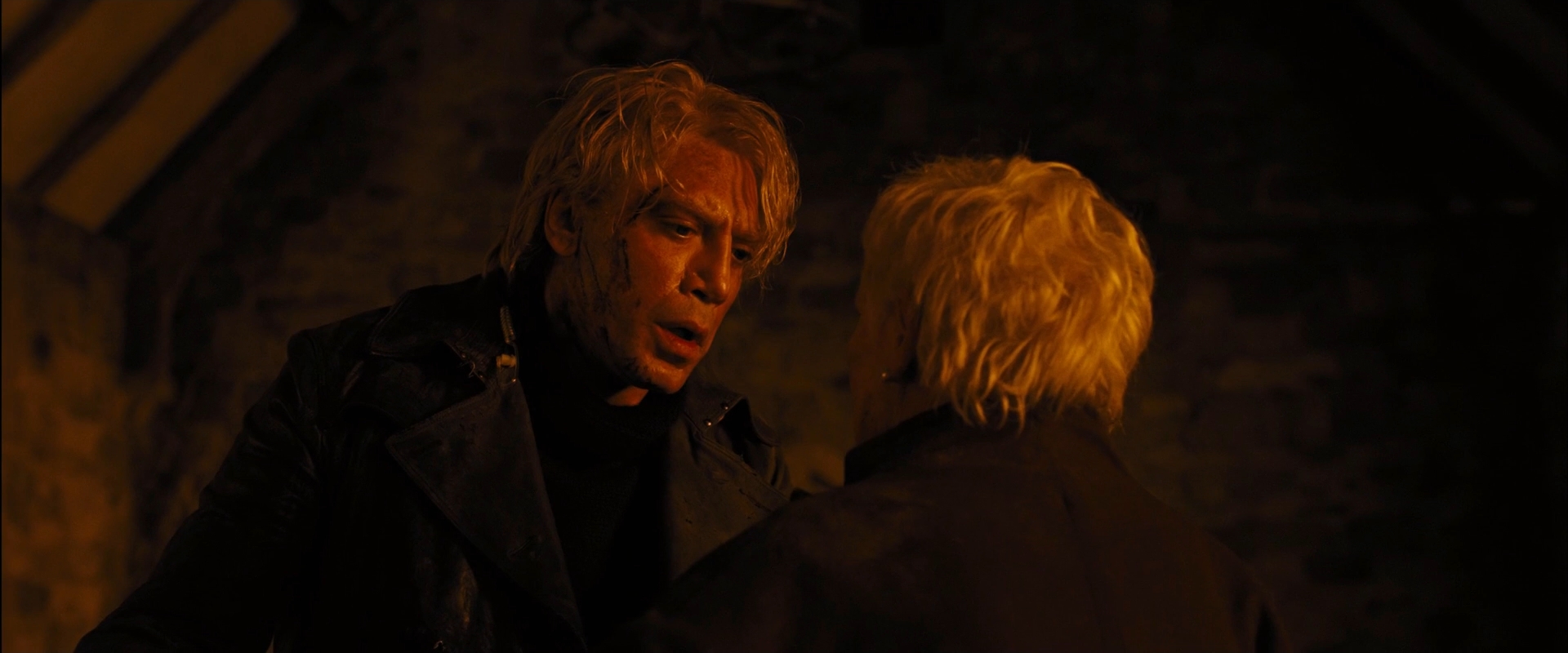 After the funeral for M, a small yet significant gift is given to Bond. Its her English Bulldog ornament. The camera intentionally shows this ornament several times throughout the movie. For me, it means M gets the last word and tells Bond to keep going forward, because no matter how many times Mi6 or his country may doubt him, at the end of the day they need James Bond.
We also finally get confirmation that Eve is in fact Eve Moneypenny. Gareth Mallory is also introduced as the new M, as all the pieces are perfectly set up for future James Bond films.
In the end Skyfall is an amazing James Bond film. There's a great story, with plenty of tension and suspense. I love how this film puts Bond in new situations, with the odds against him. It doesn't go way over the top, and manages to keep things simple. The villain is a strong character, with personal ties to a very important character. Cinematography is spectacular and well worth an Oscar nomination.
The performances were all exceptional. The re-addition of old characters like Q and Moneypenny, and addition of new characters like Gareth Mallory as the new M were all excellent. Judi Dench gives a great final performance as M. Also lets not forget the award winning song by Adele, which is the best Bond song by a long shot. Director Sam Mendes manages to deliver another classic Bond film, and gets the franchise back on track.
Skyfall gets a 9.25 out of 10.
Follow Me on Twitter – @GioRamos24
SUBSCRIBE to our Youtube Channel- Apocaflix! Movies Podcasts