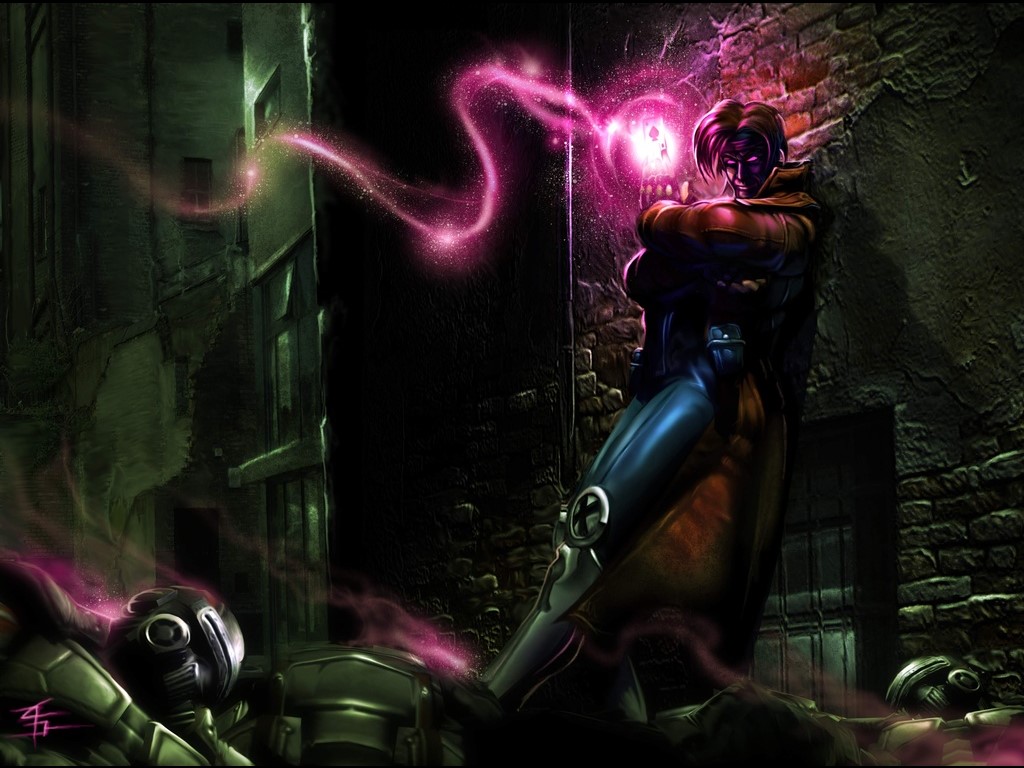 One of two comic book properties under 20th Century Fox will be making a huge splash in 2016, with the release of three X-Men universe films. Two of those films will be solo character (passion) films in Deadpool and Gambit, while the third is the Bryan Singer directed X-Men: Apocalypse.
Apocalypse remains in production, but the status of the solo character films are completely opposite. Deadpool has officially wrapped its production and Gambit is still trying to find its director. Bennett Miller (Moneyball, Foxcatcher) and Darren Aronofsky (Noah, The Wrestler) have both reportedly turned down the offer to direct. Still, given their 8 month difference in release dates (Deadpool – February/ Gambit – October) the project still has time to find a director.
Channing Tatum recently spoke w/ Empire Magazine and remains ever so confident in rising to the challenge in playing Gambit.
"I love Gambit. I grew up in the South; my father's from Louisiana. We'd go to New Orleans and I heard all the dialects. It felt so different from the rest of America; it has its own ancient culture. So I identified with that. And he always felt the most real of the X-Men to me. He's kind of a tortured soul and he's not a good guy. But he's not a bad guy, either. He walks his own path. And of course he plays cards and drinks and is a martial-arts badass!"
This is part of the reason why I buy Tatum as Gambit. His connection to the character goes back to his roots growing up. He has an understanding and passion for the character, and much like Ryan Reynolds to Deadpool sees himself as the one to give a true portrayal. Tatum went on to talk about a completed draft of the script.
"Josh Zetumer just turned in the first draft of the script, and it's killer. None of us were sure how he was going to deal with the X-Men world. But we're going to be changing some of the tropes of these movies. It's always about saving the world (Laughs), but maybe we're going to shift things a little bit. There's so many ways you can take [an origin story]. You could do it like Batman Begins, or a different take and go the Guardians of the Galaxy route. All I can say is, I'm super excited."
If anything, Tatum's comments suggest the script will be different than the norm. Deadpool's plot is on a personal level about hunting down those who experimented and damaged him. Since, Gambit is an origin film I could see it being on the same level.
As for when the film takes place is a mystery. Gambit is rumored to make a cameo in Apocalypse, which takes place in the 80's, however, his solo film takes place before his recruitment into the X-Men, so it could also take place in the past, rather than modern day. Deadpool is also rumored to make an appearance in Apocalypse, however, his solo film takes place in Modern day. Safe to say there will be more time travel to make everything fitting.
And here I thought X-Men: Days of Future Past fixed everything for the universe…
Deadpool hits theaters on February 12th, 2016
X-Men: Apocalypse hits theaters on May 27th, 2016
Gambit is scheduled to hit theaters on October 7th 2016.
Like Movie Talk Express on Facebook
Follow Movie Talk Express on Twitter- @movietalkex
Follow Gio on Twitter- @giorgioramos24
Follow our Youtube Channel- Movie Talk Express